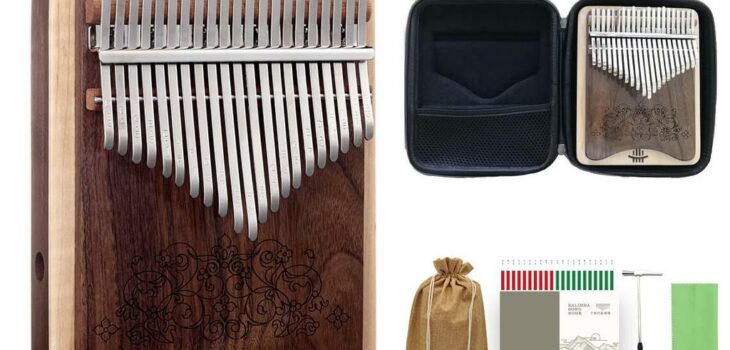 Price: $89.00
Sale price: $62.00
Coupon Code
Description:
This is a new design 21 key kalimba from Hluru. A solid resonant block "floats" on the American black walnut "box" to produce a rich and resonant sound. The standard tuning in C major pentatonic.
Video:
21-key Design For Wider Range: 21 tines in C Major From F4 to E6, more keys and wider muscial range gives you wider choices for songs and chords.
Solid Walnut Structure with Delicate Finishing: Use selected American dark walnut and Canada maple wood to ensure a warm and bright sound effect, using solid wood structure to give off a full and complete vibration. High quality material applied to ensure a professional sound effect. High-gloss finishing and beautiful black walnut wood texture makes this 21 keys kalimba looks and feels top in quality.
Upgrade Soundhole Structure For Better Resonance: Using a side sound hole structure instead of the traditional middle sound hole to makes a full resonance inside the kalimba body. This stucture gives a clearer and purer sound effect for the higher and medium notes.
30 Days Unconditional Money Back Guarantee and Awosome Customer Support, guarantees you a reassuring and satisfied shopping experience.
Package including:
1 21 key Kalimba
1 Instructions
1 Cloth Bag
1 Red and green stickers
1 Tuning Hammer
1 Gray Hard Shell Carry Box
Price: $89.00
Sale price: $62.00
Coupon Code