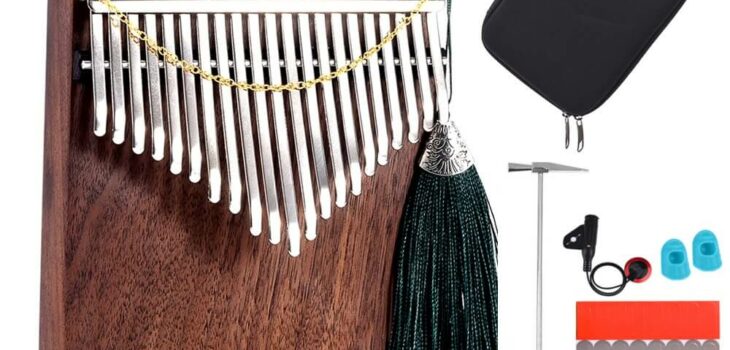 Price: $75.00
Sale price: $59.95
Coupon Code
Description:
Made of high-quality Black walnut with 21pcs carbon steel tines, simple design, and exquisite workmanship, including a pickup with a 6.35mm output jack for connecting with the amplifier to get more bright and more powerful sounds.
F tonality tuning: the corresponding tones of the tines are1(D6), 2(bB5), 3(G5), 4(E5), 5(C5), 6(A4), 7(F4), 8(D4),
9(bB3), 10(G3), 11(F3), 12(A3), 13(C4), 14(E4), 15(G4), 16(bB4), 17(D5),18(F5),19(A5),20(C5),21(E6)
(from left to right).
Easy to play: Just holding it in the hands and plucking the tines with your thumbs to create clear and melodious sounds;
and comes with a music book and stickers for quick learning and easy playing.
Compact size and lightweight: Convenient to carry around, you can make wonderful music anywhere; suitable for travel entertainment, religious ceremonies, weddings, and other social gatherings. Also includes a tuning hammer for adjusting the tines, an accompaniment chain for creating a special tremolo sound, a small bag and a hard case for easy carry, and beautiful tassel decoration.
Video:
Specifications:
Brand: LINGTING
Model: K21W
Material: Black walnut
Tonality: F
Keys: 21 keys
Item Size: 13.5 * 17 * 2.6cm / 5.35 * 6.7 * 1in
Item Weight: 522g/ 1.15lbs
Package Size: 24 * 19 * 9cm / 9.4 * 7.5 * 3.5in
Package Weight: 1150g/ 2.64lbs
Package including:
1 Thumb Piano
1 Storage Bag
1 Carry Case
1 Music Book
3 Stickers
1 Tuning Hammer
1 Accompaniment Chain
1 Tassel Decoration
1 Pickup
Price: $75.00
Sale price: $59.95
Coupon Code